Triten Gaming System: Fantasy Manual
Order Now or Sign Up to receive important notifications about Triten and our other products.
---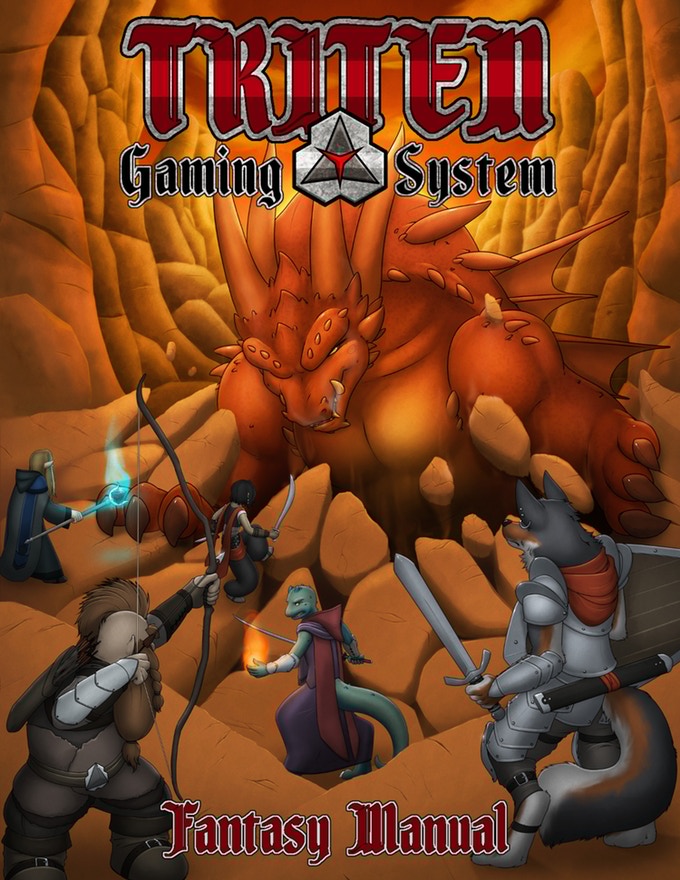 Join the Community:
Come visit http://www.tritengaming.com to see the Triten Community Site. Here you can find our community forums, links to our official chat channels, helpful Triten Gaming System files, and much more!

The Triten Gaming System is a fun and innovative new framework for Pen & Paper roleplaying games, offering an approachable and versatile system of mechanics that lets you spend more time on your adventures and less time reading through complicated rules.
The first product in the Triten line is the Fantasy Manual. This book provides you with a framework to create exciting characters and interesting worlds in a medieval fantasy setting. The book is 242 pages, perfect bound, with a beautiful color cover by illustrators Chris French and Jaime Hernández. The interior content and illustrations are black-and-white.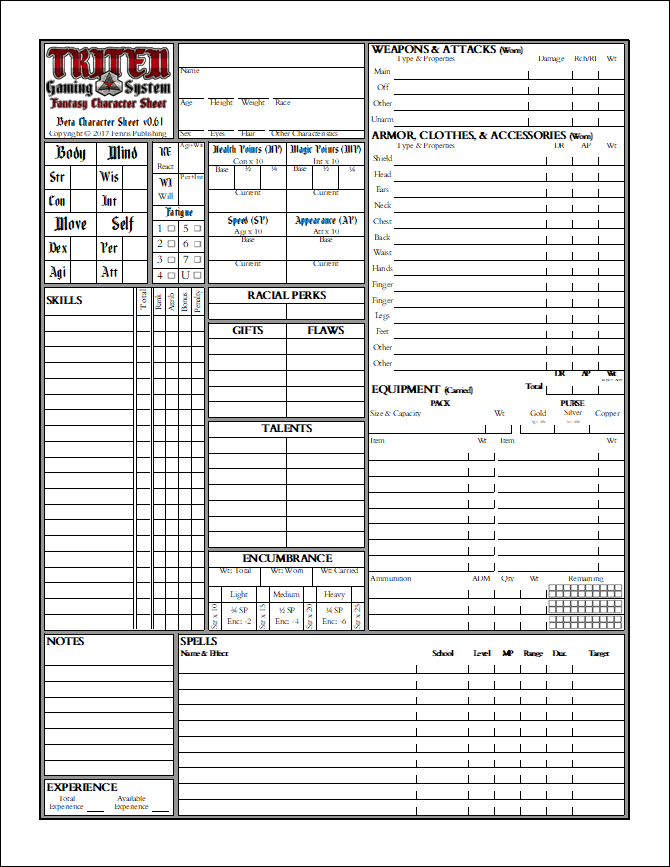 The Triten Gaming System is a whole new system of Pen & Paper RPG mechanics designed from the ground up to be both straightforward and robust, allowing for a relatively simple set of rules to work for an extremely diverse set of circumstances.  The Fantasy Manual is the first version of the Triten Gaming System which is focused on medieval fantasy. Along with the manual, all you and your friends need to play are some polyhedral dice, pencils, paper, and your imagination!
Triten uses a skill-based instead of a level-based structure of character advancement. Individual experience points earned as a character progresses through the world can be directly applied to any of dozens of different, broadly-used Skills and specific, individual abilities called Talents.  Characters can also craft or purchase a wide variety of equipment and learn hundreds of different spells over seven unique schools of magic.
This system has been in development for many years and has been through numerous playtesting campaigns with a diverse group of experienced Pen & Paper gamers who have dedicated countless hours to making this the best system it could possibly be.  We are confident that new and experienced Pen & Paper gamers alike will love this system as much as all of our playtesters have.
A multiplayer adventure:
Like all Pen & Paper Roleplaying Games, Triten is a game to play with your friends. It can be played online (over chat/voice/video) or in person and requires at least one person to be the Game Master (GM) and at least one other person to play. An ideal group, though, will have one GM and about three to five players.

The complexity of many Pen & Paper RPG's can often create both a significant barrier to entry for new players as well as a constant hindrance to experienced players who are always struggling to understand and be in compliance with the rules.  The Triten Gaming System was built from the ground up to maximize both simplicity and versatility.  We endeavored to make every mechanic and rule easy to understand and use without sacrificing the deeper functionality of more complicated mechanics.
Furthermore, Triten was designed to be modular, so individual sections and components could easily be added, removed, or supplemented by new content.  While our first project is the Fantasy Manual, we have already begun prototyping a Science Fiction manual which has shown great promise thus far, using most of the same mechanics.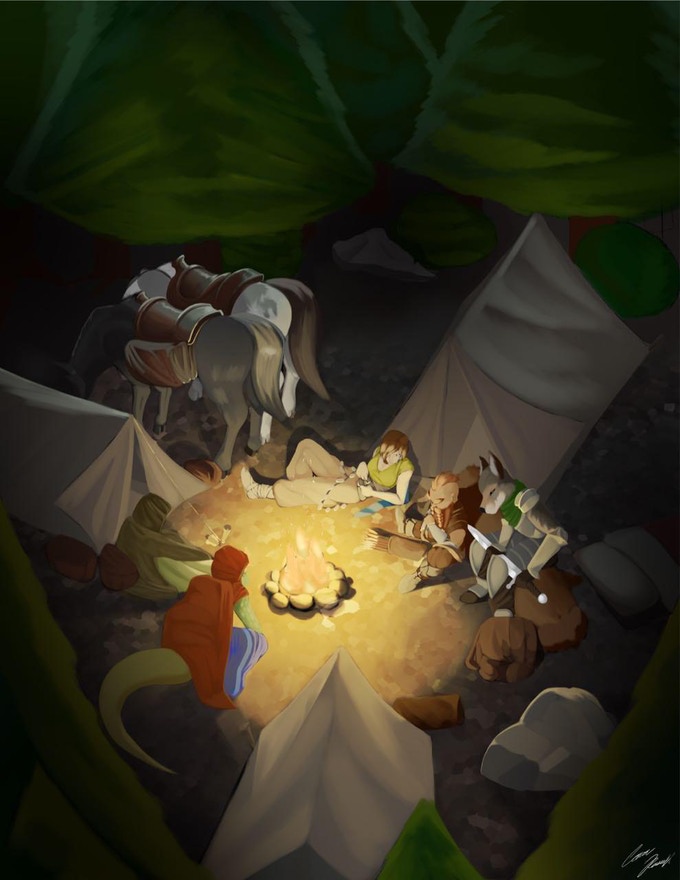 The Triten name is derived from the core skill check mechanics of the system.  This system combines three values that each generally range between one and ten. The first two of these values represent a character's innate ability and training, while the third is a random value provided by a d10 to represent luck or chance. This simple, yet versatile mechanic is used throughout the system, provides the ultimate foundation for all game play, and keeps the action simple, fast, and fun.
Our goal with Triten is to provide a robust system of mechanics for you to craft your adventures.  While the Triten Gaming System does not contain any specific lore or story of its own, its content and mechanics are meant to be flexible so you can easily pick and choose which elements you want to include in your own fantasy setting.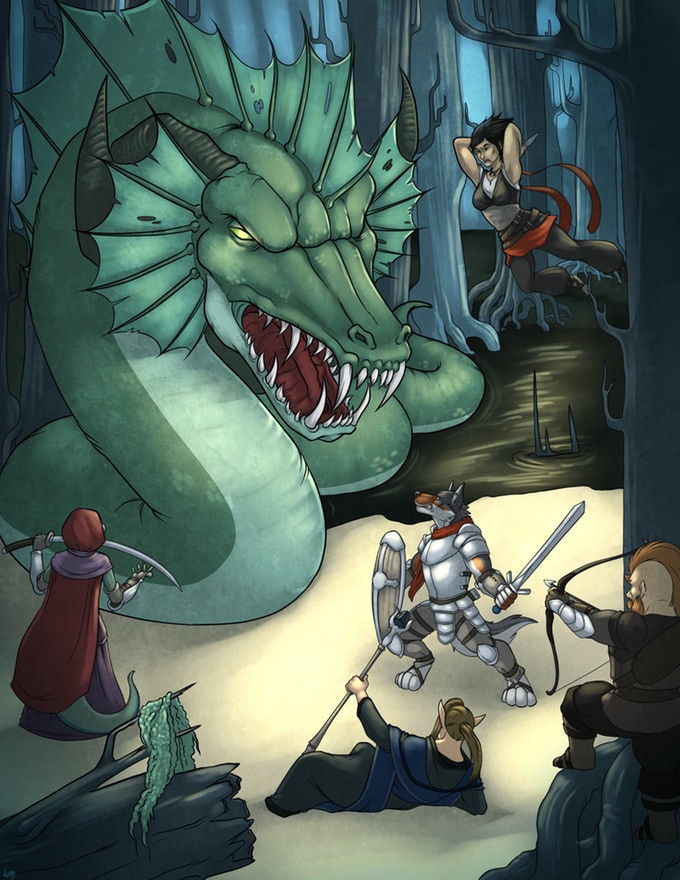 This is only the beginning for the Triten Gaming System.  We have already started prototyping a science fiction version of our mechanics that shows great promise.   We also have numerous expansions already planned for the Fantasy Manual which will add campaign settings, new items, new spells, new creatures, and much more!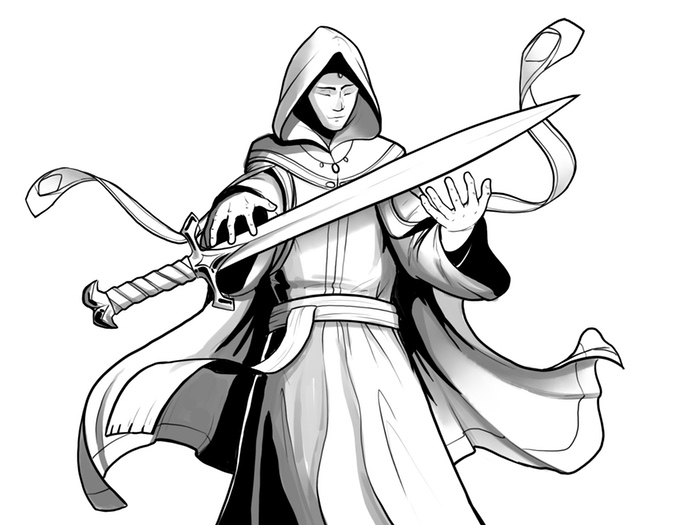 So many people have had a hand in this project, whether helping with design, playtesting, or just giving some constructive feedback. We wanted to share some of their thoughts with you.
When I met David in 2009, he had come over to recruit my roommates as some of his first playtesters. I remember being skeptical at first, but I stuck around and listened as they began discussing things. It was several hours later after a lot of talk about the mechanics of character progression that I found myself excited not only to have our first playtesting session, but also to see how the system itself would continue to grow and evolve. Years later, I'm still impressed by how easy Triten is to pick up. Even when I hadn't played it in a couple of years, it was simple to pick up and easy to teach to a group of players new to tabletop. But my favorite thing is the great number of different worlds myself and other GM's have brought to life with Triten over the years. It's simple, flexible, and allows for a wealth of creativity and storytelling. We've gone from worlds overrun by darkness and undeath, to gritty medieval worlds devoid of magic, to realms of powerful mages where demigods rule as kings.
It's been an exciting journey, in those worlds and this one. I've contributed ideas and time to Triten over the years, but it's been David's drive and determination that's brought the project to where it is. He's worked hard to bring to a community he loves a tool for creativity and fun that's easy to learn and use. I'm excited to see where Triten will go from here.
Russell Brown
Assistant Designer & Playtester
Triten is, in a word, flexible; its simplicity and balance makes world building and subsequent campaign design both intuitive and simple! This system caters well to both hardcore players and those new to tabletop gaming, as it's quick to pick up and easy to customize. Give Triten a try, and build the worlds and adventures of your dreams!
Tamlyn Kurogi
Editor & Playtester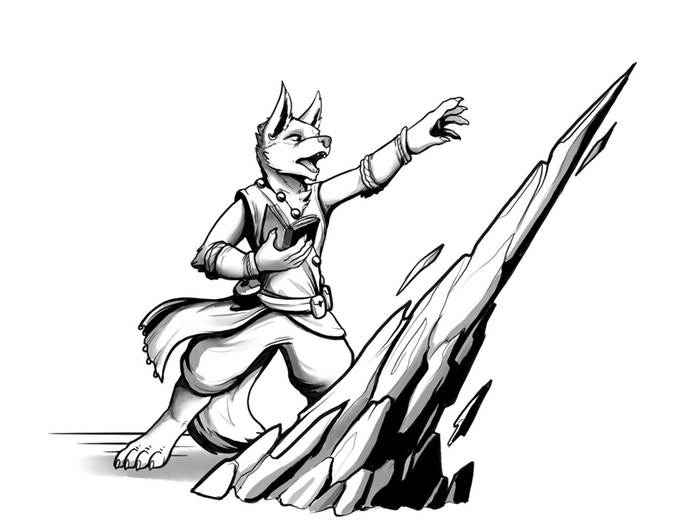 Art & Graphics
K. Burkett • C. French • P. Fry • J. Hernández • S. Prizio • C. Russell