Fenris Publishing
Welcome to Fenris Publishing! We are a book and game publisher in Flagstaff, Arizona. Our major debut product is the Triten Gaming System, a medieval fantasy pen-and-paper roleplaying game. We also carry a variety of tabletop roleplaying accessories which you can find on our Product Page. If you are an author or game designer with something you'd like us to take a look at, visit our Submissions Page.
---
News:
March 11, 2019:
We want to thank everyone for a fantastic Kikiro Con here in Flagstaff. We have several events coming up this year and we hope we get a chance to see you at one of them! We're currently working on our first campaign setting book for Triten and we will be reaching out to our community for playtesting when it nears completion.

We are no longer open for game submissions, but we are still open for novel submissions. If you're a writer and want us to consider your work, please visit the submissions page.
November 9, 2018:
We are now offering a variety of new tabletop RPG accessories! These include game mats, new dice sets, leather dice bags, and more! Visit our Product Page to see everything we have to offer.
June 9, 2018:
We are pleased to announce a new product in celebration of LGBT Pride month: Pride Dice! This is a standard 7-piece polyhedral dice set, and the pieces are rainbow-colored and translucent. Click here to order a set!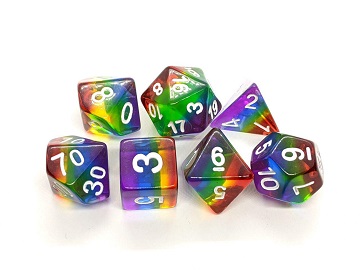 Upcoming Events:
April 19-21, 2019 - Golden State Fur Con - Irvine, CA
We will be vending at GSFC. We look forward to seeing this con's first year of operations! Look for us in the Dealer's Den.
May 9-13, 2019 - Furry Weekend Atlanta - Atlanta, GA
We're going east again this year! Though we're not making it all the way out to DC, we will be getting as far as Atlanta for FWA! Look for us in the Dealer's Den.
May 16-19, 2019 - Biggest Little Fur Con - Reno, NV
Our design team will be at BLFC this year. Like many others, we didn't make it into the Dealer's Den this year, but we're waiting to hear if we can vend in the bazaar. Stay tuned!
August 30-September 2, 2019 - Saboten Con - Phoenix, AZ
Saboten is one of the major anime conventions in Phoenix. This is the same crew that runs AZFC and we are always excited to work with them. Look for our products for sale in the game room!
October 25-27, 2019 - Arizona Fur Con - Phoenix, AZ
AZFC is our regular local furry event and we will be vending here again this year! These are some fantastic folks and we love working with them.