Fenris Publishing
Welcome to Fenris Publishing! We are a book and game publisher in Flagstaff, Arizona. You can find our first product, the Triten Gaming System: Fantasy Manual, here or you can browse our collection of other products available on our Product Page. If you are an author or game designer with something you'd like us to take a look our, visit our Submissions Page.
News:
June 9, 2018:
We are pleased to announce a new product in celebration of LGBT Pride month: Pride Dice! This is a standard 7-piece polyhedral dice set, and the pieces are rainbow-colored and translucent. Click here to order a set!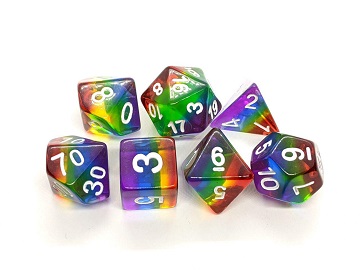 March 9, 2018:
Hello everyone! With all parts of the Kickstarter completely wrapped up and fulfilled, we're moving on to events and retail sales of Triten now! We are also finally opening up for outside submissions for fantasy/sci-fi novels and board games. If you have something you'd like to take a look at, check out our Submissions page for more information.

In Triten-specific news, we are now working on official Roll20.net support for Triten. Keep an eye out for further updates as we get things put together.
January 2, 2018:
Happy New Year! We have released a small revision (version 1.01) to our PDF. A couple of typos were corrected and a paragraph was added to the Magic chapter adding some clarification about epic spells. If you already own a PDF license, all you have to do is go to your account page and download the PDF again and you will have the updated file.

We also released all of the special edition Kickstarter PDFs to our silver, gold, and platinum backers. If you were one of these backers, you should have received a key in your e-mail. If you did not, be sure to check your spam folder.
Upcoming Events:
October 26-28, 2018 - Arizona Fur Con - Mesa, AZ
Our next furry convention will be Arizona Fur Con in Mesa this coming fall.