Fenris Publishing
Welcome to Fenris Publishing! We are a book and game publisher in Flagstaff, Arizona. Our major debut product is the Triten Gaming System, a medieval fantasy pen-and-paper roleplaying game. We also carry a variety of tabletop roleplaying accessories which you can find on our Product Page. If you are an author or game designer with something you'd like us to take a look at, visit our Submissions Page.
---
News:
November 9, 2018:
We are now offering a variety of new tabletop RPG accessories! These include game mats, new dice sets, leather dice bags, and more! Visit our Product Page to see everything we have to offer.
June 9, 2018:
We are pleased to announce a new product in celebration of LGBT Pride month: Pride Dice! This is a standard 7-piece polyhedral dice set, and the pieces are rainbow-colored and translucent. Click here to order a set!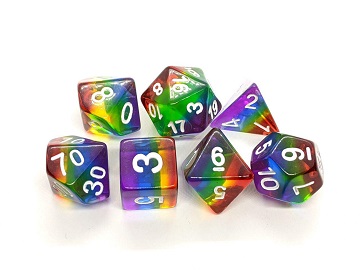 Upcoming Events:
January 17-21, 2019 - Further Confusion - San Jose, CA
Our design team will be attending Further Confusion in San Jose. We do not have dealer space, but we may run a demo in the game room if there is demand for it!
February 1-3, 2019 - Painted Desert Fur Con - Paradise Valley, AZ
We will have a dealer's table at PDFC's debut convention. We hope to see you there.